The paperback and digital versions of Breathing the Fire: Fighting to Survive, and Get Back to the Fight, were released in the fall of 2011, with author's proceeds and thousands of copies of the book going to military-related charities including those listed below — all great places to support if you are looking for ways to give back.
She also invites you to visit the site set up by the friends and family of CBS Newsmen Paul Douglas and James Brolan, to raise money for The Rory Peck Trust to keep journalists safe in the field.
And please visit the Captain Alex Funkhouser Memorial Endowment set up by the Funkhouser family to remember a great husband, dad and officer. Read more about him here.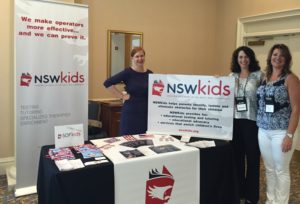 Dozier volunteers as an advisory board member and emeritus board chairman at SEALKids.org, formerly known as NSWKids.org. She's pictured here at a special operations outreach event with founder Suzanne Vogel and East Coast Family Advocate Lori Camper.
Charities that have received funds and/or books from author speaking events include: