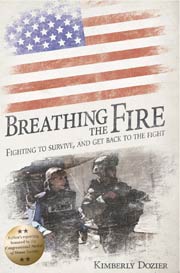 "This story reminds us all that courage is often most evident after the battle, when the unwavering commitment of people to each other shows us what true heroes are."— GEN. STANLEY McCHRYSTAL, RET.
"Kimberly Dozier has mastered the great art of storytelling in her brilliant book about how she survived an I.E.D. attack in Iraq. She writes of her ordeal without self-pity, dissecting and reliving the trials of Job: broken bones, burns, infections, unbearable pain and occasional medical advice that made things worse. What she did to survive is remarkable; her account of it is raw and riveting. You can't put it down." — LESLEY STAHL, 60 Minutes
"The bomb blast that Kimberly Dozier survived in 2006 took her out of Iraq but she never stopped being a war correspondent. Here is a rare, personal view—with all the attention to detail a great reporter brings to bear—into an experience shared by thousands of wounded Iraq veterans." — DAN RATHER, HD Net
"Breathing the Fire is a harrowing tale of courage, survival, determination, fellowship and the high price of covering a war. Kim Dozier is a master storyteller and one tough journalist. Her family is lucky to have her back – and America is lucky to have her on the front lines of reporting." — TOM BROKAW
"Kimberly Dozier's story, from her injury in Iraq on Memorial Day 2006 to her long recovery, is an important reminder of the tremendous sacrifices that our men and women overseas have made and are still making. By writing about her experiences on the battlefield and in recovery alongside our wounded warriors, she provides an inspiring voice for those both in and out of uniform who face the same challenges of injury, recovery, and loss. It is a compelling read." — GEORGE W. CASEY, Jr., U.S. Army, U.S. Army, former commander of multinational forces in Iraq
"Because she's a colleague of mine at CBS News, I thought I knew Kimberly Dozier's story pretty well. I didn't have a clue. The brutal honesty and unflinching detail with which she writes about the 'rings of horror spreading out from the bomb' that almost killed her is riveting. At one point during her recovery she tells a psychiatrist she doesn't want drugs to 'hide the pain.' Instead, 'I want to talk about how I'm feeling, why I feel like bawling my eyes out, how freaked out I am by how my body's been shredded, how I feel about losing my friends.' That's exactly what she's done in this book. Along the way she provides a nitty-gritty account of what it takes to cover a war. Anybody with a jaundiced view of the press should read for themselves the determination and commitment and just plain guts it takes. It helps to have a sense of humor, and Kimberly uses hers to somehow make you laugh in the middle of a story about terrible, terrible loss." — DAVID MARTIN, National Security Correspondent, CBS Evening News
"Dozier's book is a searing, honest look at how one horrible bomb can change so many lives forever. It was hard for me to get through the chapters without having to set it down. Her words put me right back on our own family's journey to heal after Bob's IED injury in Iraq. This is a must-read for not only those who have had a loved one in the war, but for any family who has had to fight through the arduous journey to recover themselves after a life changing event." — LEE WOODRUFF, author In an Instant, the memoir of ABC News Anchor Bob Woodruff's injury in Iraq
"With self-deprecating wit, Dozier recounts her determination to recover, never straying into self-pity. Her wounds gave her an insider's perspective on one of the top military stories on the homefront: inattention to veterans' medical and psychological care. As a television celebrity, however, she faced the opposite problem: a crush of attention from other reporters. "I was a single representative showing [the public] in a horribly fresh way something they'd long been numb to."" –The Washington Post (read the entire review here. Read Kimberly Dozier's Letter to the Editor here.)
NBC's Baghdad correspondent Richard Engel, author of War Journal: My Five Years in Iraq, writes about Breathing the Fire in Time magazine. (Dozier mentioned his book in her Washington Post blog.)
AMAZON READERS SPEAK UP: The reader reviews at Amazon.com have been incredible. For instance:
5 out of 5 stars, "Breathing the Fire" breathes life into your vision of the war, November 2, 2008
By Joanna Daneman (Middletown, DE)
"This documentary of Kim Dozier's experience as a CBS correspondent in Iraq is revealing; not only does she discuss the experience of wounded soldiers but she herself becomes wounded in a bomb blast in Iraq.
"From discussing frankly what it is like to be a woman correspondent with a major news network to the treatment as patient, first in Landstuhl in Germany, then in the US, Dozier learns the hard way about the medical system and about terrible wounds and pain. You'll get very angry about her treatment in the US hospital (but from stories people I know here tell me, some of what she experienced is what happens day to day to anyone –from call buttons put out of reach, no one answering alarms on equipment to having her complaints–valid, ignored.)
"This is an unusual memoir–not only eyewitness to events in Iraq and the US but firsthand experience of being wounded. Though Dozier "becomes the story" rather than reporting the story, I think you can insert "any soldier" into her experience minus, perhaps, the experience of being a soldier sent into battle with a mission, and learn just a small amount about the terrible price our men and women are paying for volunteering for this duty. None of them will tell you about the pain and suffering but Kimberly Dozier can. A must read."
"Writing in a crisp, clear, broad­cast-news style, Dozier's account of the Memorial Day, 2006, incident is both personal and visceral, describ­ing her excruciating brain and burn injuries as well as the pain surround­ing the deaths of her two CBS co-workers, a U.S. Army Civil Affairs captain, and his Iraqi translator…In the last third of her book, Dozier paints a vivid picture of what it is actually like to be a war corre­spondent. Her description of running military checkpoints and dodging Iraqi troops in the initial race to Baghdad crackles with energy and virtually leaps from the page." –CAROL A. SAYNISCH, M.A. Military Review